ROUND 2 IN THE Q!
The Party returns to the Quality Block in August to bring you a weekend of grassroots and god blessed music, arts and culture.
19 shows! 69 bands! All locations surrounding the Quality Block!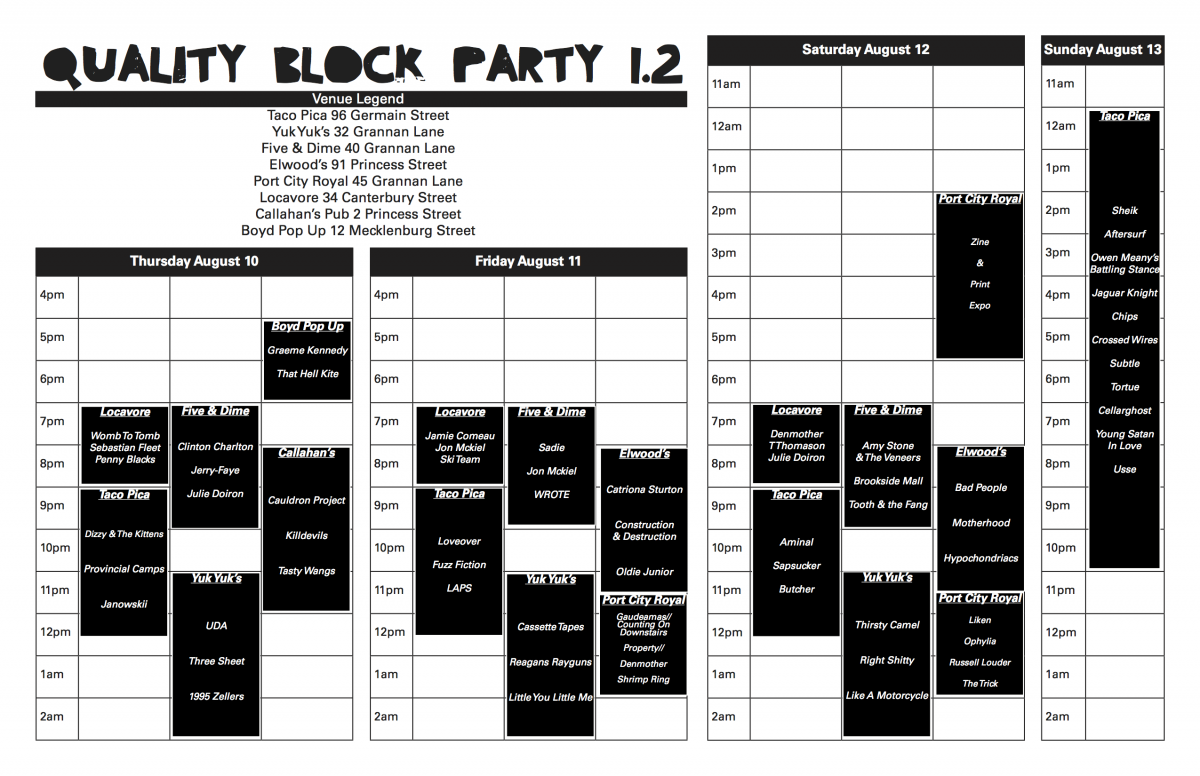 Graeme Kennedy, That Hell Kite, Clinton Charlton, Jerry-Faye, Julie Doiron, UDA, Three Sheet, 1995 Zellers, Womb to Tomb, Sebastian Fleet, Penny Blacks, Dizzy & the Kittens, Provincial Camps, Janowskii, The Cauldron Project, The Tasty Wangs, KILLDEVILS, Sadie, Jon Mckiel, WROTE,Cassette Tapes, Reagans Rayguns, Little You Little Me, Jamie Comeau,Ski Team, Love Over, Fuzz Fiction, LAPS, Catriona Sturton, Construction & Destruction , Oldie Junior, Gaudeamas, Counting on Downstairs, Propert//,DenMother, Shrimp Ring, Amy Stone & The Veneers, Brookside Mall,Tooth & the Fang, Thirsty Camel, Right Shitty, Like A Motorcycle , T. Thomason, Aminal, SAPSUCKER, Butcher, Liken, Ophylia, Russell Louder,The Trick, Motherhood, Bad People, The Hypochondriacs, Usse, Young Satan In Love, Cellarghost, Tortue, Subtle, Crossed Wires, Chips, Jaguar Knight , Owen Meany's Batting Stance, Aftersurf, Sheik, Sam Salmon & The Grand Manan Bandits, Kylie Fox, SHR and probably a few stragglers!
Limited number of festival passes, $60, and day passes, $25, now available at the home of Quality music on the Quality block; Backstreet Records SJ!
Keep Saint John Ugly!
#samesamebutdifferent