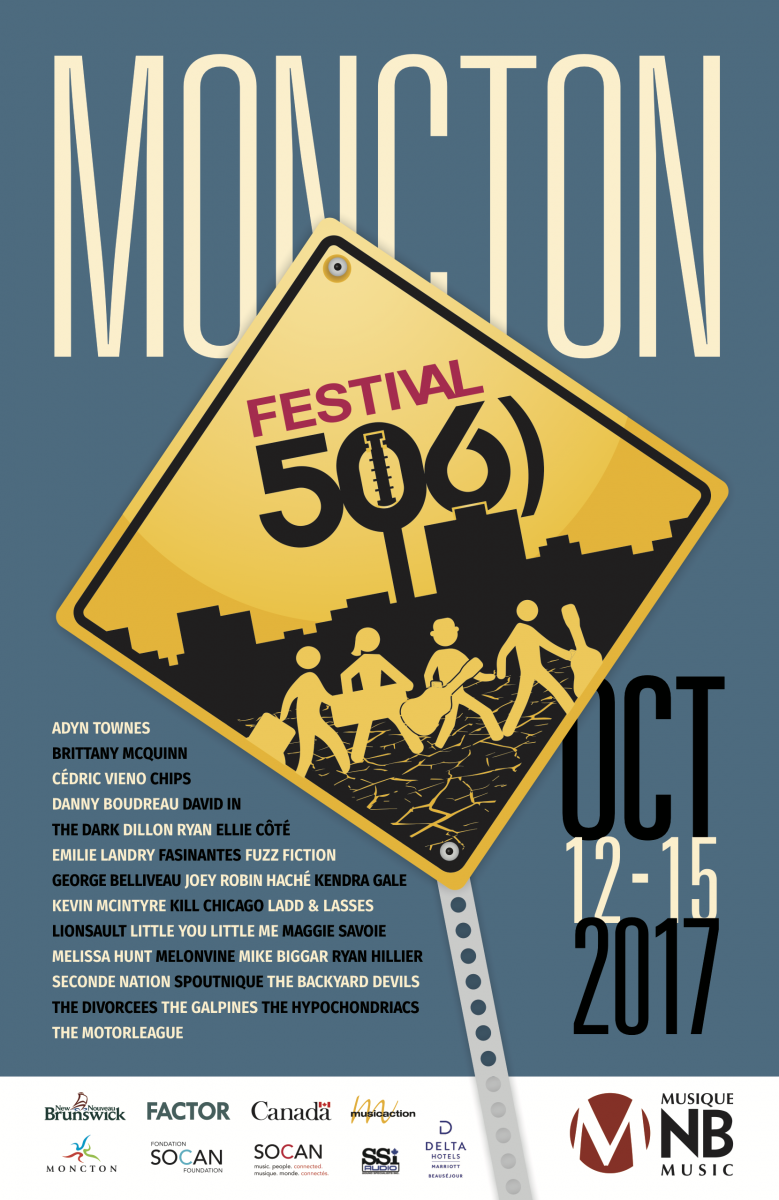 Music lovers will not want to miss the 11th edition of New Brunswick's Festival (506), taking place in Moncton, October 12 to 15, 2017.

Thirty-two bands and solos artists from all over the province will congregate in Moncton to take part in this annual celebration of homegrown talent. "Those of us working in the music industry know all the incredible work our New Brunswick artists are doing," says Jean Surette, executive director of Music•Musique NB (MNB). "It's a pleasure for us to offer a stage for them to shine!" 

The mixed programming include all-star The Motorleague, in their first Moncton concert since their revised formation, as well as Kill Chicago, 2016 Prix MNB Award Winner for Album of the Year. Performing their first MNB showcase will be Edmundston newcomers Spoutnique, and returning for a second year, Miramichi band Lionsault, who made a splash at this year's ECMA in Saint John. The jam-packed line-up will also include folk musician Maggie Savoie, indie favourite Little You Little Me, country singer Melissa Hunt and Acadian traditional group, Seconde Nation.
SHOWCASING ARTISTS 
Adyn Townes
Brittany McQuinn
Cédric Vieno
CHIPS
Danny Boudreau
David in the Dark
Dillon Ryan
Ellie Côté
Émilie Landry
FaSInantes
Fuzz Fiction
George Belliveau
Joey Robin Haché
Kendra Gale
Kevin McIntyre
Kill Chicago
Ladd & Lasses
Lionsault
Little You Little Me
Maggie Savoie
Melissa Hunt
Melonvine
Mike Biggar
Ryan Hillier
Seconde Nation
Spoutnique
The Backyard Devils
The Divorcees
The Galpines
The Hypochondriacs
The Motorleague
TICKETS
FAN Passports, which give access to all the shows (excluding the premium shows like the Awards Show) are on sale for $25. PRO Passport, which include access to all the shows, plus the conference sessions, are available for $40. 
(link: http://mnb506.brownpapertickets.com/)

Festival (506) is made possible thanks to numerous partners such as the Government of New Brunswick and the City of Moncton. We acknowledge the financial support of FACTOR, Musicaction, the Government of Canada and of Canada's private radio broadcasters. Music•Musique NB would also like to thank SOCAN and the SOCAN Foundation.